The digital world can be a fun environment to meet and connect with new people, but not everyone has good intentions. Romance and friendship scammers are finding new and creative ways to trick their victims. Here's how you can spot and avoid this new type of friendship/romance scam.
How this friendship/romance scam works
The scammer finds a creative way to begin a conversation with you and initiates a friendship or relationship. They may flatter you with compliments or offer up impressive information about themselves. These scammers are finding new ways to reach people – not just through dating sites. They've been known to contact people through social media by commenting on public posts or even by texting you and pretending to have the wrong number. They may try to reach you by:
Responding to your public comments on Facebook and Instagram or through forums like Reddit
Sending you direct messages on social media
Sending texts or WhatsApp messages where they appear to have the "wrong number"
Connecting with you on dating sites
Reaching out through online video games
Sending you emails to your inbox
Once they get to know you and gain your trust, they will find a reason to ask for money or for your personal information. These scammers can be incredibly convincing and may be in it for the "long game".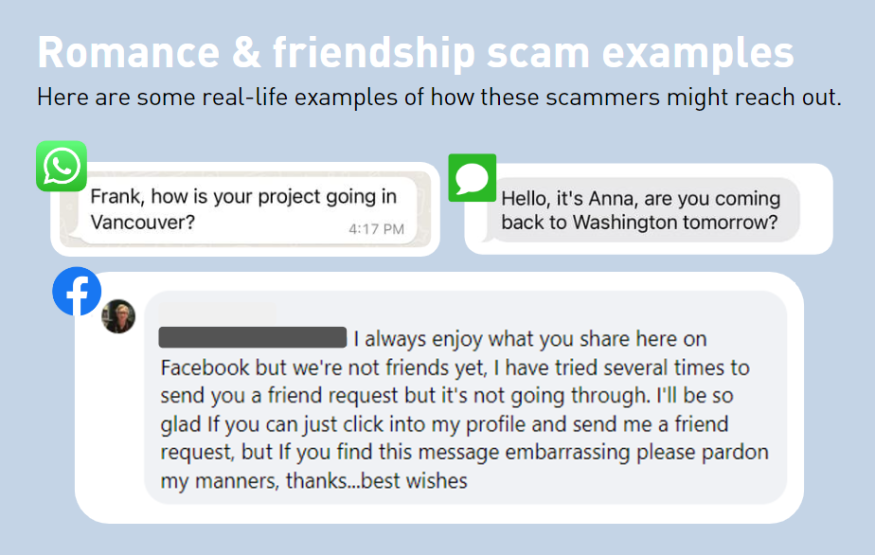 4 ways to spot and avoid this new friendship/romance scam
Don't fall for compliments. Many romance scams or "wrong number" friendship scams begin with the scammer complimenting you on things like your profile, how you look, or something you said. This could be a tactic to butter you up or spark your interest, so remain cautious if someone you don't know showers you in compliments.
Approach the situation with caution. Be careful what personal information you share online, over text or in your dating profile.
Trust your gut. If you get a bad feeling about it or notice the 5 red flags of romance scams, leave the conversation, delete the message or block the person contacting you. One of the biggest signs of this scam is if the person asks for money. If you have a bad gut feeling, it's always better to be safe than sorry.
Filter your messages. Most social media sites allow you to change your setting so only close friends can see your profile and send you messages. Check who has access to your online profiles to avoid unsolicited messages. On your phone you can block or report the numbers of the suspicious messages you get.
Did you like this post? You might like these posts too!
5 red flags of romance scams
Too good to be true? Protect yourself from online dating fraud
Buying flowers online? Read these tips first
The 10 red flags of charity scams
About Consumer Protection BC
We are responsible for regulating specific sectors and certain consumer transactions in British Columbia. If your concern is captured under the laws we enforce, we will use the tools at our disposal to assist you. If we can't help you directly, we will be happy to provide you with as much information as possible. Depending on your concern, another organization may be the ones to speak to; other times, court or legal assistance may be the best option. Explore our website at www.consumerprotectionbc.ca.