By now, you likely know that we are on social. Many of you come to our blog posts from our Facebook page. It's our most engaged and largest social community and we think it's important to check in with you occasionally, to ask how we are doing.
So, every two years, we reach out to those of you who follow us on Facebook with a survey to learn more about your experience with our page. We want to know what content you like, what you want to hear more about, and we are also looking for honest feedback about how we are managing our page. These are the results of our last survey, conducted in late 2017. We know it's taken us a long time to report out on your feedback – we apologize for that.
At the time, our Facebook community was 44,966 people strong and of those people, over 860 people participated in our survey. In the age of "fake news" and distrust with online content, we were very pleased to hear that 93% of the people who answered our survey really trust the content we share on Facebook. The highlights of the responses are in an infographic. (Tip: to enlarge the infographic, click on the image once, when the new window opens, click on the image again for a larger view.)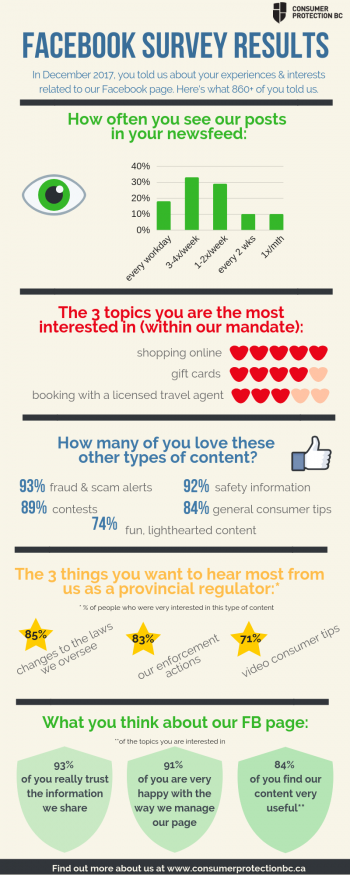 If you haven't already, you can click here to like our Facebook page. Yes, Consumer Protection BC is a regulator and we are responsible for oversight of seven specific industries and certain consumer transactions, but we share a wide variety of information on our Facebook page. Information that we hope is of interest to our online community, just like on this blog. This survey was part of a larger research project that we undertook in 2018 to reassess all our efforts on social. Based on that data, we are going to be making some changes to our social channels – watch for more information about that in 2019!
About Consumer Protection BC
We are responsible for regulating specific industries and certain consumer transactions in British Columbia. If your concern is captured under the laws we enforce, we will use the tools at our disposal to assist you. If we can't help you directly, we will be happy to provide you with as much information as possible. Depending on your concern, another organization may be the ones to speak to; other times, court or legal assistance may be the best option. Explore our website at www.consumerprotectionbc.ca.