Scam texts are increasingly popular with scammers these days. Learn how to dodge and weave scam texts like a pro by keeping these key tips in mind.
What are scam texts?
Scam texts are a phishing method used to capture your personal or financial information (sometimes referred to as "smishing").
The scammers will text you and attempt to impersonate a business you're familiar with. The text may say that it's coming from a trusted and well-known brand such as Netflix, Amazon, a bank, an internet provider, and so on. The scammers find creative ways to lure you into providing sensitive info, such as your credit card information, usually with the goal of stealing your money or your identity.
Common examples
They may spark your curiosity by saying you're owed a refund due to overpayment or you missed your parcel delivery. They may also use scare tactics such as threatening to close your accounts or arresting you if you don't comply. Sometimes they will simply pretend that they need to verify your identity or update your payment method.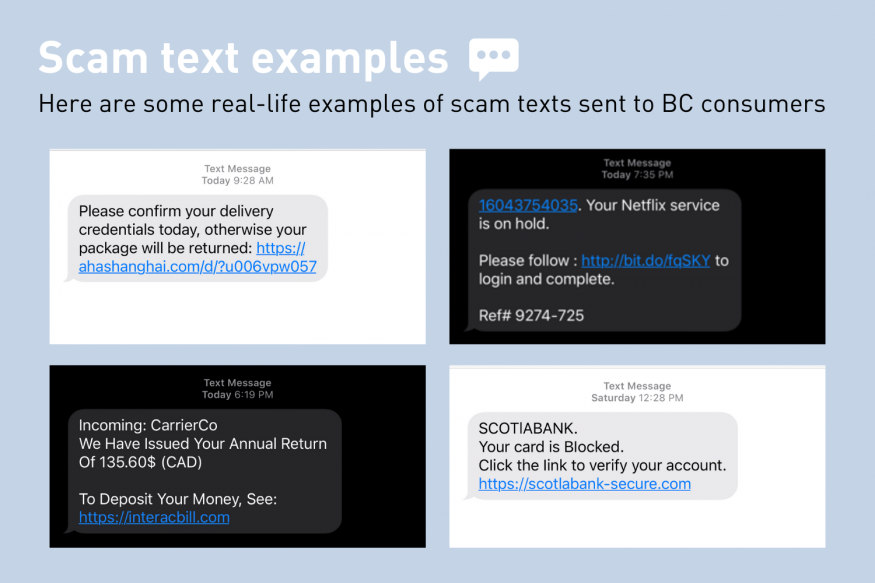 Red flags that it's a scam text
Claims to come from a credible organization or familiar brand
A tone of urgency that asks you to take immediate action
An attempt to spark your curiosity
A threat of negative consequences or the promise of a reward
Includes a suspicious link
Bad grammar or formatting
How to spot scam texts like a pro
Watch out for texts that seem to come out of the blue from a number you don't recognize
Always independently verify if it's actually coming from the business it says it is (i.e. call your bank directly to confirm)
Don't trust texts with suspicious links and never click on them
Delete the text so there's no chance you will accidentally click the link
Do not reply to any texts that you suspect may be a scam
Never reply to anyone over text with personal, confidential, or financial information to "verify" identity
Follow us on Facebook, where we often share real-life examples of scam-texts (like the ones above)
Protect your loved ones by spreading the word
Learn more about scam texts and different phishing forms to watch out for by checking out Get Cyber Safe.
What to do if you fall victim to a scam text
If you feel that you may have been a victim of fraud, please contact your local police (non-emergency) as soon as possible and report it to the Canadian Anti Fraud Centre.
Did you like this? You might like these posts too!
Top 6 tips to protect you from scammers
Phishing: don't get reeled in
Were you a victim of a scam? Watch out for the "recovery pitch"
What to do if you receive a spam text
About Consumer Protection BC
We are responsible for regulating specific industries and certain consumer transactions in British Columbia. If your concern is captured under the laws we enforce, we will use the tools at our disposal to assist you. If we can't help you directly, we will be happy to provide you with as much information as possible. Depending on your concern, another organization may be the ones to speak to; other times, court or legal assistance may be the best option. Explore our website at www.consumerprotectionbc.ca.