On behalf of our Board of Directors, staff and stakeholders, we are pleased to release our 2017 Annual Report and financial statements.
Each year, we prepare a report that highlights the accomplishments achieved over the last fiscal year and provides an overview of how we met our operational goals according to the organization's three-year Strategic Business Plan.
Here are some of the highlights: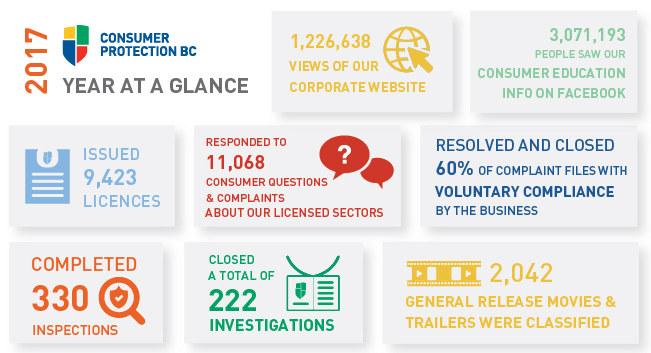 Read our 2017 Annual Report and financial statements to find out more about our activities last year.
About Consumer Protection BC
Consumer Protection BC is the regulator of a variety of sectors and specific consumer transactions in the province. Our mandate is to license and inspect our regulated businesses, respond to consumer inquiries, investigate alleged violations of consumer protection laws, classify all general release motion pictures and provide information and referrals to consumers.
For more information about our organization, to read our recent enforcement actions, and to learn about our inspection and complaint-handling processes, please visit our corporate website at www.consumerprotectionbc.ca. You can also follow us on Twitter @ConsumerProBC, like us on Facebook and read our blog for valuable consumer tips and resources.