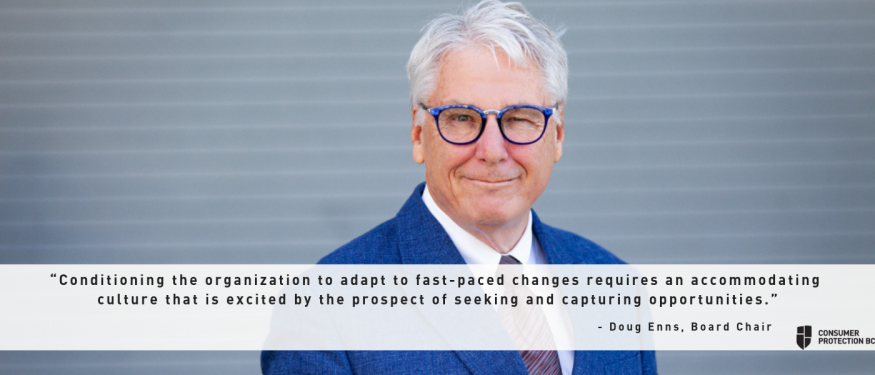 Doug Enns is "Best in Biz" for adding value & mitigating risk during disruptive times
MEDIA RELEASE – Victoria, BC
Doug Enns, Board Chair of Consumer Protection BC, has been named a winner (silver) in the Chairperson of Year category in Best in Biz Awards 2019 International, an independent global business awards program.
A business consultant, Enns assumed the role of Board Chair in 2014. In this relatively short time, he has maintained a focus on what is best for the provincial regulator now and in the future, shaping conditions that have seen Consumer Protection BC continue to grow as a value-add regulator. His watchful eye to the technological future has ensured the regulator stays relevant and continues to add stakeholder value. A strong strategic leader, Enns also introduced a Principle Areas of Risk framework to anticipate and mitigate risks. "Conditioning the organization to adapt to fast-paced changes requires an accommodating culture that is excited by the prospect of seeking and capturing opportunities," explains Enns.
Rob Gialloreto, a Chartered Professional in Human Resources and Consumer Protection BC's President and CEO, also won an award (Silver) for HR Executive of the Year. His people-focused leadership style has had a significant impact on the corporate culture of the organization in a variety of ways, including increases in employee engagement throughout his tenure at Consumer Protection BC. "It's simple: there is the investment and development of our people, and then there is everything else," says Gialloreto about his leadership approach. "Over the last few years, our management group has grown together and worked hard to develop themselves. That group is the catalyst to our positive organizational culture, and they are the reason behind any internal or external recognition we receive."
Close to 300 public and private companies from all sectors of the global economy and more than 30 countries competed in Best in Biz Awards' 7th annual international program. Best in Biz Awards 2019 International honours were presented in a wide range of categories. Winners in the 7th annual program were determined based on scoring from an independent panel of judges hailing from a wide spectrum of top-tier publications and media outlets from 11 countries.
About Best in Biz International Awards:
The Best in Biz International Awards is an independent global business awards program now in its seventh year and judged by editors and reporters from publications around the world. The 16-member judging panel for the 2019 awards includes writers from the Huffington Post, IAA Magazine and TechRadar, amongst others. Winners from the 2018 awards include Nasdaq and Dell Technologies. To learn more about these awards, visit http://intl.bestinbizawards.com.
About Consumer Protection BC:
In 2018, Consumer Protection BC won for Corporate Social Responsibility Program (gold), Executive of the Year (bronze). And in 2017, it also won Best Place to Work (bronze) and 2017 Executive of the Year (gold). Consumer Protection BC is the regulator of a variety of sectors and specific consumer transactions in the province. Visit www.consumerprotectionbc.ca for more information about this not-for-profit corporation.
-30 –
Media contact: