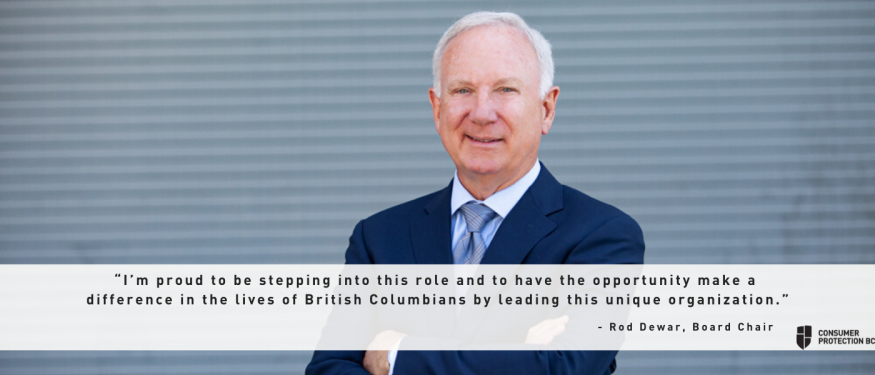 MEDIA RELEASE – The Board of Directors of Consumer Protection BC welcomes Rod Dewar, as the new Chair, effective November 24, 2019, and for a five-year term.
Mr. Dewar, a certified Independent Corporate Director (ICD.D) with extensive corporate governance experience, first joined Consumer Protection BC's Board of Directors in March 2017.
During his career, Mr. Dewar held CEO, COO and Senior VP responsibilities in the transportation and financial services sectors, including six years as CEO of Island Savings, a $1.3B credit union. He has broad national and international operations experience, as well as extensive knowledge in compensation structure, technology development and deployment and marketing and strategy development. Mr. Dewar has served on many Boards and committees, including audit, finance, human resources, risk and governance.
"Our former Chair, Doug Enns, has left the organization in a great position and we are grateful for his five-year commitment and service to Consumer Protection BC," says Dewar. "I'm proud to be stepping into this role and to have the opportunity make a difference in the lives of British Columbians by leading this unique organization."
Mr. Dewar's other current Board responsibilities include BC Life & Casualty (Vice Chair), Nicola Wealth Management, Blueshore Financial and the Victoria Airport Authority. Former Board positions include Chair of the BC Ferry Authority and Chair of the Victoria Hospitals Foundation. He has also served his community as Fundraising Chair for the Canadian Cancer Society, Chair of the Bayview Place/Island Savings Open PGA golf tournament and on the Advisory Council of the Royal Roads University School of Leadership.
"With his corporate background and expertise in governance, Rod is a valuable asset to our Board," says Robert Gialloreto, Consumer Protection BC's President and CEO. "We all look forward to seeing what we can continue to accomplish in the next five years under his strategic guidance."
Mr. Dewar is replacing Mr. Doug Enns who began with the Board as a Director in early 2014 and assumed the Board Chair position later that year. For more information about the Board of Directors, including biographical information, please visit Consumer Protection BC's corporate website at www.consumerprotectionbc.ca.
About Consumer Protection BC:
Consumer Protection BC is the regulator of a variety of sectors and specific consumer transactions in the province. Its mandate is to license and inspect its regulated businesses, respond to consumer inquiries, investigate alleged violations of consumer protection laws, classify all general release motion pictures and provide information and referrals to consumers.
For more information, please visit www.consumerprotectionbc.ca. You can also like Consumer Protection BC on Facebook, Instagram and YouTube, read its blog for valuable consumer tips and resources and follow its movie classifications on Twitter @ConsumerProBC.
-30-
Media Contact:
media@consumerprotectionbc.ca