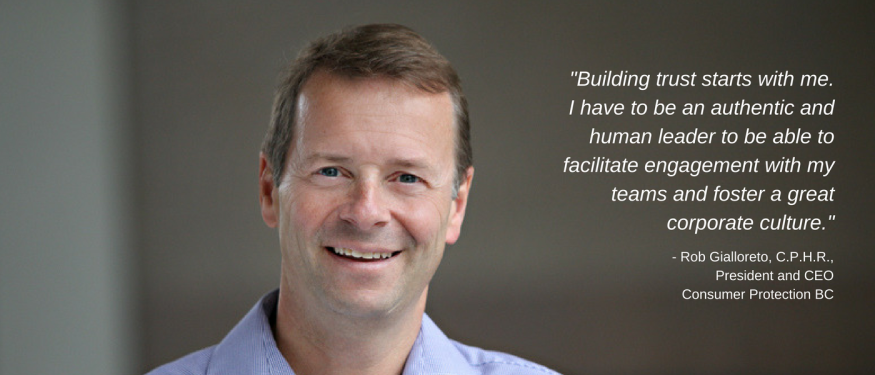 By Tatiana Chabeaux-Smith, Consumer Protection BC writer
Rob Gialloreto, President and CEO of Consumer Protection BC, has spent his four and half years with the organization working towards making it a great place to work. A Chartered Professional in Human Resources (CPHR), he believes the key to reaching this goal is to engage with the staff and build trust. "That starts with me," he says. "I have to be an authentic and human leader to be able to facilitate engagement with my teams and foster a great corporate culture."
Rob tends to be a humble guy (who didn't even want this article written) but here's the thing – with Rob at its helm, Consumer Protection BC has won numerous designations and awards as a great place to work. So how did it get there?
Well, Rob takes internal culture seriously. He offers three important ways to begin to build a great corporate culture:
Hire for mutual fit. Like any good relationship, an organization and its employees need to start off on the right foot. The interview process is an ideal time to assess a good fit between both parties, by communicating expectations honestly and clearly and asking values-based questions. "Consumer Protection BC has to be flexible, responsive and proactive to deliver on its numerous mandates," explains Rob. "This includes a constant change in structure and operations and means we look for people who enjoy and even thrive in that dynamic." It's important for our people to know and understand what it's going to be like at their "second home" and look forward to being part of a team that balances high-quality deliverables with personal accountability.
Empower your staff to find better ways of doing business. Encourage employees to be innovative, find solutions to business issues, and grow personally and professionally. "I see my role as to remove the obstacles on a path to the solution and empower our thought leaders," says Rob.
Encourage life-long learning and continuous skills improvement. This is done through education and training, based on employees' individual needs and organizational requirements. This includes time off to attend courses, full or partial payment of tuition, professional membership dues, conference/workshop attendance, and even travel.
Today, for the second year in a row, Consumer Protection BC was named one of Canada's Best Workplaces™ by Great Place to Work. This complements the organization's other awards including the Best in Biz Awards 2017 international and certification as a Great Place to Work in 2016 and 2017.
To find out more about Consumer Protection BC, a provincial regulator, please explore www.consumerprotectionbc.ca.