The rules and issues around the COVID-19 pandemic continue to evolve and information changes consistently. Please take note of when our content was written and always go to the sources we've provided for the most current guidance.
If you're using household cleaning and disinfectant products in your home to help prevent the spread of illness, there are some things you should know. The BC CDC outlines a 2-step disinfection process which we'll break down for you, along with some other tips, so you can clean safely and effectively.
How to disinfect surfaces:
The virus that causes COVID-19 can be broken down by soaps and detergents, as well as appropriate disinfectants. Here's the two-step process that the BC CDC recommends to effectively disinfect surfaces.
Step 1: Clean
Use soapy water to wipe away dirt, soils and other debris
Plain dish soap or any other household cleaning product will be effective for this step.
Step 2: Disinfect
Ensure you're using products that are approved to be used against COVID-19.
You can check Health Canada's list of approved products to see if your disinfectant is safe and effective
Use disinfectant products as directed on the label. Not following the directions can mean the product isn't effective and may even be dangerous.
What about bleach?
If store-bought disinfectants aren't available, you can also use a properly prepared bleach solution for step 2. Bleach solutions must be appropriately diluted (check the label for the recommended ratio) and mixed with room temperature water (do not use hot water). Bleach and water mixtures are only guaranteed to be effective for 24 hours, so only make as much as you need, daily.
The below table from the BC CDC outlines how and when to appropriately use various concentrations of bleach solutions. Ppm means parts per million and references the concentration of bleach in a water solution. To find out how to prepare a bleach solution for your desired ppm, you can use the foodsafe bleach calculator.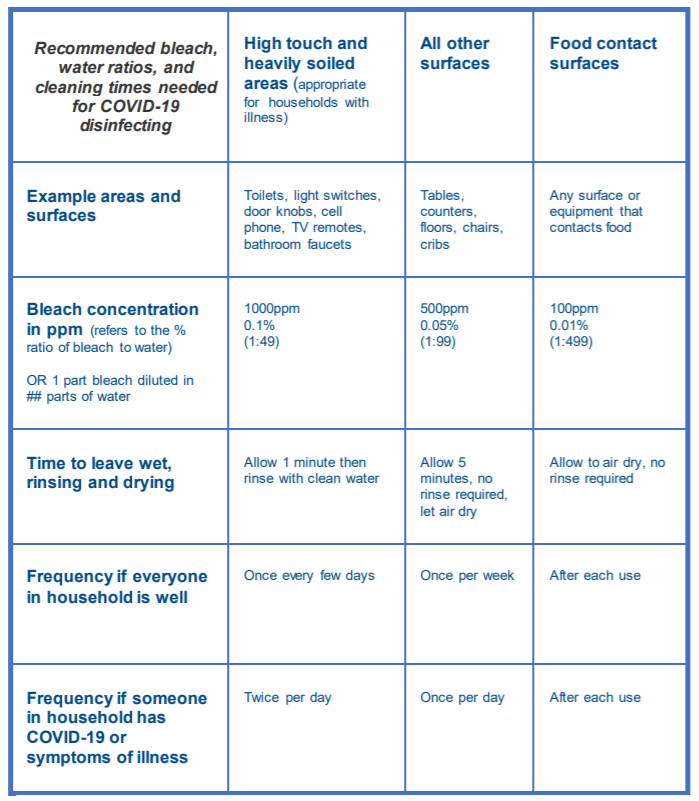 Other safety tips:
For all disinfectants:
Ensure that disinfectant containers are tightly sealed and labeled and that they're stored away from children and pets.
Make sure the area you're disinfecting has good ventilation and wear gloves while you're disinfecting.
Keep up to date with information like product recalls on Health Canada's website.
For bleach solutions:
Do not mix bleach with vinegar or other acids (I.e. lemon juice, ammonia containing products like Windex, or rubbing alcohol). This can create toxic gases.
Make sure you're using clean equipment to make and store bleach solutions.
Know that a higher concentration does not necessarily mean a solution is better. Using a higher concentration than is recommended can cause irritation to the eyes and throat, and in some cases may even be dangerous. Use the table above to decide which solution and concentration best fits your needs.
When using bleach on surfaces, allow the surface to air dry completely before using again.
Dispose of any leftover bleach solution to reduce the chance that it will be confused or improperly used. If you pour the excess down the drain, run a lot of water down the drain at the same time.
Did you like this? You might like these posts too!    
Look through all of our COVID-19 related information on our website.
Where do we fit in? 
Yes, we are a provincial regulator. We are responsible for some very specific transactions in BC. We aren't experts on COVID-19. We won't – and shouldn't – ever give medical or legal advice. But we are in a unique circumstance right now and we want to help people navigate the current reality. We don't have all the answers, but we will do our best to share information from reliable sources, put it in ways that are easy to digest and understand, provide referrals and help you navigate this situation.    
About Consumer Protection BC: 
We are responsible for regulating specific industries and certain consumer transactions in British Columbia. If your concern is captured under the laws we enforce, we will use the tools at our disposal to assist you. If we can't help you directly, we will be happy to provide you with as much information as possible. Depending on your concern, another organization may be the ones to speak to; other times, court or legal assistance may be the best option. Explore our website at www.consumerprotectionbc.ca.