The rules and issues around the COVID-19 pandemic continue to evolve and information changes consistently. Please take note of when our content was written and always go to the sources we've provided for the most current guidance.
Now that we're into phase 2 of BC's Restart Plan, many of us are adapting to evolving information and guidelines. Some people may be responding to these updated guidelines by carefully and thoughtfully broadening their social circles to include additional people outside of their households.
While we can't tell you exactly how much you should widen your social circle, or whether you should at all, we have collected some information and guidelines from the Government of BC that you should consider as you decide what's right for you.
What we know right now:
We know (based on modelling done by the Province of BC), that returning to pre-COVID-19 normalcy, or even near normalcy (increasing contacts to 80% of normal) would have a disastrous effect.
BC's disease modelling suggests that in phase 1, people reduced their social circles to about 30% of normal (70% physical distancing) which effectively flattened the transmission curve.
However, moving into phase 2, this modelling also shows that we can increase our contact with others to about 60% (40% physical distancing), and still maintain a manageable rate of transmission.
Contacts increase to 60% (40% physical distancing)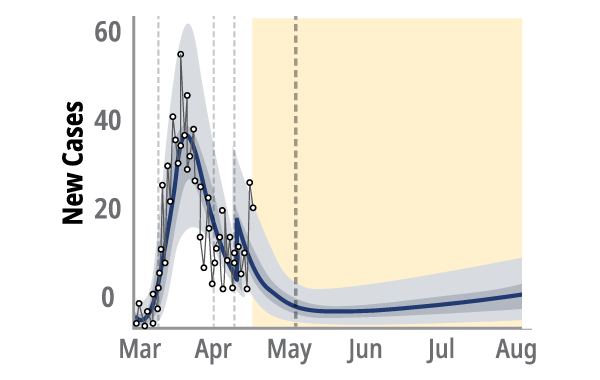 While this expansion is encouraging, it's important to remember this modelling doesn't suggest a return to normal. The takeaway here is that if you choose to widen your social circle at all during this next phase, it should be to a maximum of 60% of normal, and it must still include other recommendations to minimize risk, from reputable sources.
Physical distancing continues to be essential in limiting the spread of COVID-19. Check out our guide here:
What a move to 60% contact means for you:
It's important that you know that even if we all keep our social circles to 60% or less, there will still be a chance of a low level of COVID-19 transmissions. This means there will be some risk involved when you increase the number of contacts you interact with.
Everyone must determine for themselves how much risk they, and those they live with, are comfortable tolerating. Up to 60% does not automatically mean you should automatically be widening your social circle to 60% of normal. Perhaps you're more comfortable around the 30% mark. Or, if you are extremely risk-averse, you may consider whether opening up your social circle at all is right for you (especially if you or those you live or interact with are in a vulnerable group).
Having more information can help you make the best decision for you. Here are some of the things highlighted in the BC Restart Plan to think about when you're making decisions about widening your circle.
What to consider: 
Number of contacts:
The more people you see, the greater probability you will come into contact with someone who's sick. Similarly, the more people you come into contact with, the greater chance you have of transmitting disease (should you be contagious and be asymptomatic or pre-symptomatic).
You can slow the spread and reduce your risk by increasing your circle slowly (if at all) and by carefully considering the risk of the people you're interacting with before you invite them into your circle. Also, keep in mind that you're not just inviting immediate contacts into your circle. You are also accepting the risk of all the people they've seen (and so on). If you do widen your circle, the Government of BC recommends that you keep contact groups consistent, and to two to six people.
Contact intensity:
How you interact still matters. Seeing lots of people and being in close contact with them represents a much greater risk than seeing fewer people while respecting physical distancing, although both will still have some degree of risk involved.
If you do choose to see people outside of your household, face to face, there are some things you can do to help reduce your risk. You should continue to follow recommendations (including physical distancing) from reputable sources that will help you minimize the risk of transmission.
Vulnerable groups:
For those who are at greater risk (think those over the age of 60 and/or with underlying medical conditions), be informed of your risk and take extra precautions if you do choose to increase your circle of contacts.
The same can be said for those interacting with people in high-risk groups – consider who you have been in contact with and what increased risk you might bring to those interactions.
What else to consider:
Remember that those who are asymptomatic or have minor symptoms can still be contagious. As before, don't assume that everyone appearing healthy means you're in the clear.
Also, do keep in mind that there can be a delay in seeing the effect of transmission. Because COVID-19 has an incubation period of up to two weeks, we may only now be experiencing (and spreading) the result of a contact from weeks ago.
So, it's important, especially in these early stages, to move slowly and with thought to reduce the spread.
We know there's a lot of uncertainty out there right now. Phase 2 of the restart plan has us all moving into new territory, and we know that everyone's trying to do their best to keep themselves and those around them safe. We hope providing this information will help as you make decisions on what's right for you and those around you.
Did you like this? You might like these posts too!      
Look through all of our COVID-19 related information on our website.      
Where do we fit in? 
Yes, we are a provincial regulator. We are responsible for some very specific transactions in BC. We aren't experts on COVID-19. We won't – and shouldn't – ever give medical or legal advice. But we are in a unique circumstance right now and we want to help people navigate the current reality. We don't have all the answers, but we will do our best to share information from reliable sources, put it in ways that are easy to digest and understand, provide referrals and help you navigate this situation.      
About Consumer Protection BC: 
We are responsible for regulating specific industries and certain consumer transactions in British Columbia. If your concern is captured under the laws we enforce, we will use the tools at our disposal to assist you. If we can't help you directly, we will be happy to provide you with as much information as possible. Depending on your concern, another organization may be the ones to speak to; other times, court or legal assistance may be the best option. Explore our website at www.consumerprotectionbc.ca.