The rules and issues around the COVID-19 pandemic continue to evolve and information changes consistently. Please take note of when our content was written and always go to the sources we've provided for the most current guidance.
If you have stopped working because of COVID-19, the CERB, administered by the federal government, may provide you with temporary income support.
We know that this article is quite long. We tried to pull as much useful information as possible from the Government of Canada websites. While we wrote the article on April 6, 2020, the day the benefit launched, content was updated on April 16th, 2020 to reflect recent changes made by the Government of Canada. It is possible that this content will continue to change. Find the most up to date info on the Canada Emergency Response Benefit (CERB) page.

So here's what you need to know if you are thinking of applying for the CERB:
Who is eligible?
The benefit is available to you if all of the following are true:
You live in Canada, and you are at least 15 years old.
You have stopped working because of reasons related to COVID-19 or are eligible for Employment Insurance (EI) regular or sickness benefits or have exhausted your EI regular benefits between Dec 29th, 2019 and Oct 3rd, 2020.
You had an income of at least $5,000 (could be from a combination of employment and self-employment) in 2019 or in the 12 months prior to your application.

The income does not need to be earned in Canada, but you must reside in Canada.

You did not quit your job voluntarily.
Some more eligibility details:
When submitting your first claim, you cannot have earned more than $1,000 in employment and/or self-employment income for 14 or more consecutive days within the four-week benefit period of your claim.
When submitting subsequent claims, you cannot have earned more than $1,000 in income for the entire four-week benefit period of your new claim.
To find out more about eligibility and the benefit, check the Questions and Answers on the Canada Emergency Response Benefit page.
How much are the benefits & for how long?
The benefit is $500 a week, for up to 16 weeks (or $2,000 a month, for four months). This is true regardless of what you may have been eligible for through Employment Insurance (EI).
It's available from March 15, 2020 to October 3, 2020.

You can apply no later than December 2, 2020.
Payments can be made retroactively to your eligibility date.
How to apply:
Visit the CERB portal where you will be guided through a handful of questions to direct you to the application that's best suited for you (either through Service Canada or the CRA).
You can also call the automated CERB toll-free line at 1-800-959-2019.
At the time of your application you will need to provide:
Your personal contact information,
Your Social Insurance Number,
You will also need to confirm that you meet the eligibility requirements.
When to apply:
Applications opened today (April 6th) at 6a.m. EST (that's 3a.m. PST), but applications are staggered by birth month. This is to help manage the high number of applicants on the platform. Here's when you should apply: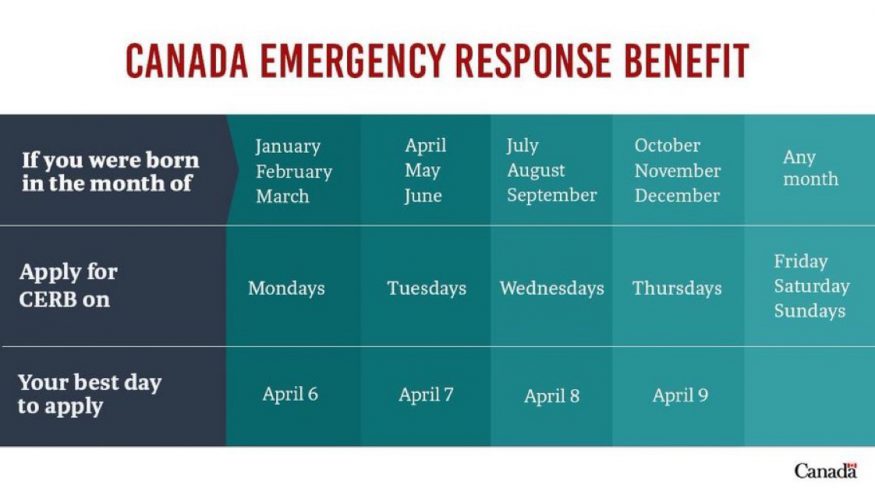 Eligibility periods are fixed in four-week periods. If your situation continues, you can re-apply for CERB for multiple four-week periods to a maximum of 16 weeks (four periods). Applications for the second period begin the week of April 13th.
Online and phone services are available 21 hours a day, 7 days a week. They are both closed daily between 3a.m.-6a.m. EST (that's 12a.m.-3a.m. PST) for maintenance.
Even with these measures, is possible that the site will be overwhelmed, especially in the first few days of its availability. If you encounter an error message related to volumes, please keep trying. You may also have better luck trying to access the site in off-peak hours.
How long do I have to wait?
Once you've been approved, there is no waiting period for the benefit to kick in:

If you signed up for direct deposits, you should get your payment in 3 business days.
If you're not signed up for direct deposits, you should get your payment in about 10 business days.
What else to know:
The benefit is taxable, but tax is not deducted at the source. This means you will be expected to report the CERB payments as income when you file for the 2020 tax year.
You cannot be paid EI benefits and CERB benefits for the same period.
If you are subsequently determined to be ineligible for the benefit, you must repay it.
Did you like this? You might like these posts too!
Look through all of our COVID-19 related information on our website.
Where do we fit in?
Yes, we are a provincial regulator. We are responsible for some very specific transactions in BC. We aren't experts on COVID-19. We won't – and shouldn't – ever give medical or legal advice. But we are in a unique circumstance right now and we want to help people navigate the current reality. We don't have all the answers, but we will do our best to share information from reliable sources, put it in ways that are easy to digest and understand, provide referrals and help you navigate this situation. This is an evolving situation and information is changing all the time, so go to the source for updated information.
About Consumer Protection BC
We are responsible for regulating specific industries and certain consumer transactions in British Columbia. If your concern is captured under the laws we enforce, we will use the tools at our disposal to assist you. If we can't help you directly, we will be happy to provide you with as much information as possible. Depending on your concern, another organization may be the ones to speak to; other times, court or legal assistance may be the best option. Explore our website at www.consumerprotectionbc.ca.